Deprecated
: Non-static method JModuleHelper::getModules() should not be called statically, assuming $this from incompatible context in
/home/fastflash/domains/praktijkalibaks.nl/public_html/website/libraries/joomla/document/html/html.php
on line
272
Deprecated
: Non-static method JModuleHelper::_load() should not be called statically, assuming $this from incompatible context in
/home/fastflash/domains/praktijkalibaks.nl/public_html/website/libraries/joomla/application/module/helper.php
on line
88
Deprecated
: Non-static method JModuleHelper::getModules() should not be called statically, assuming $this from incompatible context in
/home/fastflash/domains/praktijkalibaks.nl/public_html/website/libraries/joomla/document/html/html.php
on line
272
Deprecated
: Non-static method JModuleHelper::_load() should not be called statically, assuming $this from incompatible context in
/home/fastflash/domains/praktijkalibaks.nl/public_html/website/libraries/joomla/application/module/helper.php
on line
88
Deprecated
: Non-static method JRequest::getBool() should not be called statically, assuming $this from incompatible context in
/home/fastflash/domains/praktijkalibaks.nl/public_html/website/libraries/joomla/application/module/helper.php
on line
97
Deprecated
: Non-static method JRequest::getVar() should not be called statically, assuming $this from incompatible context in
/home/fastflash/domains/praktijkalibaks.nl/public_html/website/libraries/joomla/environment/request.php
on line
217
Deprecated
: Non-static method JRequest::_cleanVar() should not be called statically, assuming $this from incompatible context in
/home/fastflash/domains/praktijkalibaks.nl/public_html/website/libraries/joomla/environment/request.php
on line
151
Deprecated
: Non-static method JFilterInput::getInstance() should not be called statically, assuming $this from incompatible context in
/home/fastflash/domains/praktijkalibaks.nl/public_html/website/libraries/joomla/environment/request.php
on line
577
Deprecated
: Non-static method JModuleHelper::getModules() should not be called statically, assuming $this from incompatible context in
/home/fastflash/domains/praktijkalibaks.nl/public_html/website/libraries/joomla/document/html/html.php
on line
272
Deprecated
: Non-static method JModuleHelper::_load() should not be called statically, assuming $this from incompatible context in
/home/fastflash/domains/praktijkalibaks.nl/public_html/website/libraries/joomla/application/module/helper.php
on line
88
Deprecated
: Non-static method JRequest::getBool() should not be called statically, assuming $this from incompatible context in
/home/fastflash/domains/praktijkalibaks.nl/public_html/website/libraries/joomla/application/module/helper.php
on line
97
Deprecated
: Non-static method JRequest::getVar() should not be called statically, assuming $this from incompatible context in
/home/fastflash/domains/praktijkalibaks.nl/public_html/website/libraries/joomla/environment/request.php
on line
217
Deprecated
: Non-static method JRequest::_cleanVar() should not be called statically, assuming $this from incompatible context in
/home/fastflash/domains/praktijkalibaks.nl/public_html/website/libraries/joomla/environment/request.php
on line
151
Deprecated
: Non-static method JFilterInput::getInstance() should not be called statically, assuming $this from incompatible context in
/home/fastflash/domains/praktijkalibaks.nl/public_html/website/libraries/joomla/environment/request.php
on line
577
Deprecated
: Non-static method JFactory::getSession() should not be called statically, assuming $this from incompatible context in
/home/fastflash/domains/praktijkalibaks.nl/public_html/website/libraries/joomla/application/application.php
on line
374
Strict Standards
: Non-static method JLoader::import() should not be called statically in
/home/fastflash/domains/praktijkalibaks.nl/public_html/website/libraries/loader.php
on line
186
Strict Standards
: Non-static method JLoader::register() should not be called statically in
/home/fastflash/domains/praktijkalibaks.nl/public_html/website/libraries/loader.php
on line
71
Strict Standards
: Non-static method JLoader::load() should not be called statically in
/home/fastflash/domains/praktijkalibaks.nl/public_html/website/libraries/loader.php
on line
161
Strict Standards
: Non-static method JLoader::register() should not be called statically in
/home/fastflash/domains/praktijkalibaks.nl/public_html/website/libraries/loader.php
on line
138
Strict Standards
: Declaration of ContentController::display() should be compatible with JController::display($cachable = false) in
/home/fastflash/domains/praktijkalibaks.nl/public_html/website/components/com_content/controller.php
on line
28
Strict Standards
: Non-static method JLoader::import() should not be called statically in
/home/fastflash/domains/praktijkalibaks.nl/public_html/website/libraries/loader.php
on line
186
Strict Standards
: Non-static method JLoader::import() should not be called statically in
/home/fastflash/domains/praktijkalibaks.nl/public_html/website/libraries/loader.php
on line
186
Strict Standards
: Non-static method JLoader::import() should not be called statically in
/home/fastflash/domains/praktijkalibaks.nl/public_html/website/libraries/loader.php
on line
186
Strict Standards
: Non-static method JLoader::register() should not be called statically in
/home/fastflash/domains/praktijkalibaks.nl/public_html/website/libraries/loader.php
on line
71
Strict Standards
: Non-static method JLoader::load() should not be called statically in
/home/fastflash/domains/praktijkalibaks.nl/public_html/website/libraries/loader.php
on line
161
Strict Standards
: Non-static method JLoader::register() should not be called statically in
/home/fastflash/domains/praktijkalibaks.nl/public_html/website/libraries/loader.php
on line
138
Deprecated
: Non-static method JModel::addIncludePath() should not be called statically, assuming $this from incompatible context in
/home/fastflash/domains/praktijkalibaks.nl/public_html/website/libraries/joomla/application/component/controller.php
on line
382
Strict Standards
: Non-static method JLoader::import() should not be called statically in
/home/fastflash/domains/praktijkalibaks.nl/public_html/website/libraries/loader.php
on line
186
Deprecated
: Non-static method JPath::clean() should not be called statically, assuming $this from incompatible context in
/home/fastflash/domains/praktijkalibaks.nl/public_html/website/libraries/joomla/application/component/model.php
on line
253
Deprecated
: Non-static method JRequest::getVar() should not be called statically, assuming $this from incompatible context in
/home/fastflash/domains/praktijkalibaks.nl/public_html/website/components/com_content/content.php
on line
35
Strict Standards
: Non-static method JLoader::load() should not be called statically in
/home/fastflash/domains/praktijkalibaks.nl/public_html/website/libraries/loader.php
on line
161
Strict Standards
: Non-static method JLoader::register() should not be called statically in
/home/fastflash/domains/praktijkalibaks.nl/public_html/website/libraries/loader.php
on line
138
Deprecated
: Non-static method JHTML::_() should not be called statically, assuming $this from incompatible context in
/home/fastflash/domains/praktijkalibaks.nl/public_html/website/components/com_content/controller.php
on line
37
Strict Standards
: Non-static method JLoader::load() should not be called statically in
/home/fastflash/domains/praktijkalibaks.nl/public_html/website/libraries/loader.php
on line
161
Strict Standards
: Non-static method JLoader::register() should not be called statically in
/home/fastflash/domains/praktijkalibaks.nl/public_html/website/libraries/loader.php
on line
138
Strict Standards
: Non-static method JLoader::import() should not be called statically in
/home/fastflash/domains/praktijkalibaks.nl/public_html/website/libraries/loader.php
on line
186
Deprecated
: Non-static method JPath::find() should not be called statically, assuming $this from incompatible context in
/home/fastflash/domains/praktijkalibaks.nl/public_html/website/libraries/joomla/html/html.php
on line
66
Deprecated
: Non-static method JHTML::addIncludePath() should not be called statically, assuming $this from incompatible context in
/home/fastflash/domains/praktijkalibaks.nl/public_html/website/libraries/joomla/html/html.php
on line
66
Strict Standards
: call_user_func_array() expects parameter 1 to be a valid callback, non-static method JHTMLBehavior::caption() should not be called statically in
/home/fastflash/domains/praktijkalibaks.nl/public_html/website/libraries/joomla/html/html.php
on line
91
Strict Standards
: Non-static method JHTML::script() should not be called statically in
/home/fastflash/domains/praktijkalibaks.nl/public_html/website/libraries/joomla/html/html/behavior.php
on line
63
Strict Standards
: Non-static method JHTML::_() should not be called statically in
/home/fastflash/domains/praktijkalibaks.nl/public_html/website/libraries/joomla/html/html.php
on line
172
Strict Standards
: call_user_func_array() expects parameter 1 to be a valid callback, non-static method JHTMLBehavior::mootools() should not be called statically in
/home/fastflash/domains/praktijkalibaks.nl/public_html/website/libraries/joomla/html/html.php
on line
91
Strict Standards
: Non-static method JFactory::getConfig() should not be called statically in
/home/fastflash/domains/praktijkalibaks.nl/public_html/website/libraries/joomla/html/html/behavior.php
on line
46
Strict Standards
: Non-static method JHTML::script() should not be called statically in
/home/fastflash/domains/praktijkalibaks.nl/public_html/website/libraries/joomla/html/html/behavior.php
on line
56
Strict Standards
: Non-static method JURI::root() should not be called statically in
/home/fastflash/domains/praktijkalibaks.nl/public_html/website/libraries/joomla/html/html.php
on line
176
Strict Standards
: Non-static method JURI::base() should not be called statically in
/home/fastflash/domains/praktijkalibaks.nl/public_html/website/libraries/joomla/environment/uri.php
on line
276
Strict Standards
: Non-static method JURI::getInstance() should not be called statically in
/home/fastflash/domains/praktijkalibaks.nl/public_html/website/libraries/joomla/environment/uri.php
on line
276
Strict Standards
: Non-static method JFactory::getDocument() should not be called statically in
/home/fastflash/domains/praktijkalibaks.nl/public_html/website/libraries/joomla/html/html.php
on line
179
Strict Standards
: Non-static method JURI::root() should not be called statically in
/home/fastflash/domains/praktijkalibaks.nl/public_html/website/libraries/joomla/html/html.php
on line
176
Strict Standards
: Non-static method JFactory::getDocument() should not be called statically in
/home/fastflash/domains/praktijkalibaks.nl/public_html/website/libraries/joomla/html/html.php
on line
179
Deprecated
: Non-static method JRequest::getCmd() should not be called statically, assuming $this from incompatible context in
/home/fastflash/domains/praktijkalibaks.nl/public_html/website/components/com_content/controller.php
on line
40
Deprecated
: Non-static method JRequest::getVar() should not be called statically, assuming $this from incompatible context in
/home/fastflash/domains/praktijkalibaks.nl/public_html/website/libraries/joomla/environment/request.php
on line
255
Deprecated
: Non-static method JRequest::_cleanVar() should not be called statically, assuming $this from incompatible context in
/home/fastflash/domains/praktijkalibaks.nl/public_html/website/libraries/joomla/environment/request.php
on line
140
Deprecated
: Non-static method JFilterInput::getInstance() should not be called statically, assuming $this from incompatible context in
/home/fastflash/domains/praktijkalibaks.nl/public_html/website/libraries/joomla/environment/request.php
on line
577
Deprecated
: Non-static method JFactory::getUser() should not be called statically, assuming $this from incompatible context in
/home/fastflash/domains/praktijkalibaks.nl/public_html/website/components/com_content/controller.php
on line
46
Strict Standards
: Non-static method JLoader::import() should not be called statically in
/home/fastflash/domains/praktijkalibaks.nl/public_html/website/libraries/loader.php
on line
186
Deprecated
: Non-static method JFactory::getSession() should not be called statically, assuming $this from incompatible context in
/home/fastflash/domains/praktijkalibaks.nl/public_html/website/libraries/joomla/factory.php
on line
163
Deprecated
: Non-static method JRequest::getVar() should not be called statically, assuming $this from incompatible context in
/home/fastflash/domains/praktijkalibaks.nl/public_html/website/components/com_content/controller.php
on line
47
Deprecated
: Non-static method JRequest::_cleanVar() should not be called statically, assuming $this from incompatible context in
/home/fastflash/domains/praktijkalibaks.nl/public_html/website/libraries/joomla/environment/request.php
on line
140
Deprecated
: Non-static method JFilterInput::getInstance() should not be called statically, assuming $this from incompatible context in
/home/fastflash/domains/praktijkalibaks.nl/public_html/website/libraries/joomla/environment/request.php
on line
577
Deprecated
: preg_replace(): The /e modifier is deprecated, use preg_replace_callback instead in
/home/fastflash/domains/praktijkalibaks.nl/public_html/website/libraries/joomla/filter/filterinput.php
on line
512
Deprecated
: preg_replace(): The /e modifier is deprecated, use preg_replace_callback instead in
/home/fastflash/domains/praktijkalibaks.nl/public_html/website/libraries/joomla/filter/filterinput.php
on line
514
Deprecated
: Non-static method JRequest::getVar() should not be called statically, assuming $this from incompatible context in
/home/fastflash/domains/praktijkalibaks.nl/public_html/website/components/com_content/controller.php
on line
48
Deprecated
: Non-static method JRequest::_cleanVar() should not be called statically, assuming $this from incompatible context in
/home/fastflash/domains/praktijkalibaks.nl/public_html/website/libraries/joomla/environment/request.php
on line
151
Deprecated
: Non-static method JFilterInput::getInstance() should not be called statically, assuming $this from incompatible context in
/home/fastflash/domains/praktijkalibaks.nl/public_html/website/libraries/joomla/environment/request.php
on line
577
Deprecated
: Non-static method JFactory::getDocument() should not be called statically, assuming $this from incompatible context in
/home/fastflash/domains/praktijkalibaks.nl/public_html/website/libraries/joomla/application/component/controller.php
on line
287
Deprecated
: Non-static method JRequest::getCmd() should not be called statically, assuming $this from incompatible context in
/home/fastflash/domains/praktijkalibaks.nl/public_html/website/libraries/joomla/application/component/controller.php
on line
290
Deprecated
: Non-static method JRequest::getVar() should not be called statically, assuming $this from incompatible context in
/home/fastflash/domains/praktijkalibaks.nl/public_html/website/libraries/joomla/environment/request.php
on line
255
Deprecated
: Non-static method JRequest::getCmd() should not be called statically, assuming $this from incompatible context in
/home/fastflash/domains/praktijkalibaks.nl/public_html/website/libraries/joomla/application/component/controller.php
on line
291
Deprecated
: Non-static method JRequest::getVar() should not be called statically, assuming $this from incompatible context in
/home/fastflash/domains/praktijkalibaks.nl/public_html/website/libraries/joomla/environment/request.php
on line
255
Deprecated
: Non-static method JRequest::_cleanVar() should not be called statically, assuming $this from incompatible context in
/home/fastflash/domains/praktijkalibaks.nl/public_html/website/libraries/joomla/environment/request.php
on line
151
Deprecated
: Non-static method JFilterInput::getInstance() should not be called statically, assuming $this from incompatible context in
/home/fastflash/domains/praktijkalibaks.nl/public_html/website/libraries/joomla/environment/request.php
on line
577
Strict Standards
: Non-static method JLoader::load() should not be called statically in
/home/fastflash/domains/praktijkalibaks.nl/public_html/website/libraries/loader.php
on line
161
Strict Standards
: Non-static method JLoader::register() should not be called statically in
/home/fastflash/domains/praktijkalibaks.nl/public_html/website/libraries/loader.php
on line
138
Strict Standards
: Non-static method JLoader::import() should not be called statically in
/home/fastflash/domains/praktijkalibaks.nl/public_html/website/libraries/loader.php
on line
186
Deprecated
: Non-static method JPath::find() should not be called statically, assuming $this from incompatible context in
/home/fastflash/domains/praktijkalibaks.nl/public_html/website/libraries/joomla/application/component/controller.php
on line
627
Strict Standards
: Non-static method JLoader::import() should not be called statically in
/home/fastflash/domains/praktijkalibaks.nl/public_html/website/libraries/loader.php
on line
186
Strict Standards
: Non-static method JLoader::register() should not be called statically in
/home/fastflash/domains/praktijkalibaks.nl/public_html/website/libraries/loader.php
on line
71
Strict Standards
: Non-static method JLoader::load() should not be called statically in
/home/fastflash/domains/praktijkalibaks.nl/public_html/website/libraries/loader.php
on line
161
Strict Standards
: Non-static method JLoader::register() should not be called statically in
/home/fastflash/domains/praktijkalibaks.nl/public_html/website/libraries/loader.php
on line
138
Strict Standards
: Non-static method JLoader::import() should not be called statically in
/home/fastflash/domains/praktijkalibaks.nl/public_html/website/libraries/loader.php
on line
186
Deprecated
: Non-static method JMenu::getInstance() should not be called statically, assuming $this from incompatible context in
/home/fastflash/domains/praktijkalibaks.nl/public_html/website/libraries/joomla/application/application.php
on line
720
Deprecated
: Non-static method JError::isError() should not be called statically, assuming $this from incompatible context in
/home/fastflash/domains/praktijkalibaks.nl/public_html/website/libraries/joomla/application/application.php
on line
721
Deprecated
: Non-static method JFactory::getDBO() should not be called statically, assuming $this from incompatible context in
/home/fastflash/domains/praktijkalibaks.nl/public_html/website/includes/application.php
on line
300
Deprecated
: Non-static method JRequest::getCmd() should not be called statically, assuming $this from incompatible context in
/home/fastflash/domains/praktijkalibaks.nl/public_html/website/includes/application.php
on line
310
Deprecated
: Non-static method JRequest::getVar() should not be called statically, assuming $this from incompatible context in
/home/fastflash/domains/praktijkalibaks.nl/public_html/website/libraries/joomla/environment/request.php
on line
255
Deprecated
: Non-static method JRequest::_cleanVar() should not be called statically, assuming $this from incompatible context in
/home/fastflash/domains/praktijkalibaks.nl/public_html/website/libraries/joomla/environment/request.php
on line
151
Deprecated
: Non-static method JFilterInput::getInstance() should not be called statically, assuming $this from incompatible context in
/home/fastflash/domains/praktijkalibaks.nl/public_html/website/libraries/joomla/environment/request.php
on line
577
Deprecated
: Non-static method JFilterInput::clean() should not be called statically, assuming $this from incompatible context in
/home/fastflash/domains/praktijkalibaks.nl/public_html/website/includes/application.php
on line
311
Deprecated
: Non-static method JURI::base() should not be called statically, assuming $this from incompatible context in
/home/fastflash/domains/praktijkalibaks.nl/public_html/website/libraries/joomla/application/component/view.php
on line
178
Deprecated
: Non-static method JHTML::addIncludePath() should not be called statically, assuming $this from incompatible context in
/home/fastflash/domains/praktijkalibaks.nl/public_html/website/components/com_content/view.php
on line
13
Deprecated
: Non-static method JPath::clean() should not be called statically, assuming $this from incompatible context in
/home/fastflash/domains/praktijkalibaks.nl/public_html/website/libraries/joomla/html/html.php
on line
326
Deprecated
: Non-static method JModel::getInstance() should not be called statically, assuming $this from incompatible context in
/home/fastflash/domains/praktijkalibaks.nl/public_html/website/libraries/joomla/application/component/controller.php
on line
592
Strict Standards
: Non-static method JLoader::load() should not be called statically in
/home/fastflash/domains/praktijkalibaks.nl/public_html/website/libraries/loader.php
on line
161
Strict Standards
: Non-static method JLoader::register() should not be called statically in
/home/fastflash/domains/praktijkalibaks.nl/public_html/website/libraries/loader.php
on line
138
Strict Standards
: Non-static method JLoader::import() should not be called statically in
/home/fastflash/domains/praktijkalibaks.nl/public_html/website/libraries/loader.php
on line
186
Deprecated
: Non-static method JPath::find() should not be called statically, assuming $this from incompatible context in
/home/fastflash/domains/praktijkalibaks.nl/public_html/website/libraries/joomla/application/component/model.php
on line
112
Deprecated
: Non-static method JModel::addIncludePath() should not be called statically, assuming $this from incompatible context in
/home/fastflash/domains/praktijkalibaks.nl/public_html/website/libraries/joomla/application/component/model.php
on line
113
Deprecated
: Non-static method JModel::_createFileName() should not be called statically, assuming $this from incompatible context in
/home/fastflash/domains/praktijkalibaks.nl/public_html/website/libraries/joomla/application/component/model.php
on line
114
Strict Standards
: Non-static method JLoader::import() should not be called statically in
/home/fastflash/domains/praktijkalibaks.nl/public_html/website/libraries/loader.php
on line
186
Deprecated
: Non-static method JFactory::getDBO() should not be called statically, assuming $this from incompatible context in
/home/fastflash/domains/praktijkalibaks.nl/public_html/website/libraries/joomla/application/component/model.php
on line
83
Strict Standards
: Non-static method JLoader::import() should not be called statically in
/home/fastflash/domains/praktijkalibaks.nl/public_html/website/libraries/loader.php
on line
186
Deprecated
: Non-static method JTable::addIncludePath() should not be called statically, assuming $this from incompatible context in
/home/fastflash/domains/praktijkalibaks.nl/public_html/website/libraries/joomla/application/component/model.php
on line
268
Deprecated
: Non-static method JRequest::getVar() should not be called statically, assuming $this from incompatible context in
/home/fastflash/domains/praktijkalibaks.nl/public_html/website/components/com_content/models/article.php
on line
45
Deprecated
: Non-static method JRequest::_cleanVar() should not be called statically, assuming $this from incompatible context in
/home/fastflash/domains/praktijkalibaks.nl/public_html/website/libraries/joomla/environment/request.php
on line
140
Deprecated
: Non-static method JFilterInput::getInstance() should not be called statically, assuming $this from incompatible context in
/home/fastflash/domains/praktijkalibaks.nl/public_html/website/libraries/joomla/environment/request.php
on line
577
Deprecated
: Non-static method JFactory::getApplication() should not be called statically, assuming $this from incompatible context in
/home/fastflash/domains/praktijkalibaks.nl/public_html/website/libraries/joomla/application/component/controller.php
on line
356
Strict Standards
: Non-static method JLoader::import() should not be called statically in
/home/fastflash/domains/praktijkalibaks.nl/public_html/website/libraries/loader.php
on line
186
Deprecated
: Non-static method JMenu::getInstance() should not be called statically, assuming $this from incompatible context in
/home/fastflash/domains/praktijkalibaks.nl/public_html/website/libraries/joomla/application/application.php
on line
720
Deprecated
: Non-static method JError::isError() should not be called statically, assuming $this from incompatible context in
/home/fastflash/domains/praktijkalibaks.nl/public_html/website/libraries/joomla/application/application.php
on line
721
Deprecated
: Non-static method JRegistryFormat::getInstance() should not be called statically, assuming $this from incompatible context in
/home/fastflash/domains/praktijkalibaks.nl/public_html/website/libraries/joomla/registry/registry.php
on line
373
Deprecated
: Non-static method JFilterInput::clean() should not be called statically, assuming $this from incompatible context in
/home/fastflash/domains/praktijkalibaks.nl/public_html/website/libraries/joomla/registry/format.php
on line
45
Deprecated
: Non-static method JFactory::getCache() should not be called statically, assuming $this from incompatible context in
/home/fastflash/domains/praktijkalibaks.nl/public_html/website/libraries/joomla/application/component/controller.php
on line
307
Deprecated
: Non-static method JFactory::getConfig() should not be called statically, assuming $this from incompatible context in
/home/fastflash/domains/praktijkalibaks.nl/public_html/website/libraries/joomla/factory.php
on line
192
Strict Standards
: Non-static method JLoader::import() should not be called statically in
/home/fastflash/domains/praktijkalibaks.nl/public_html/website/libraries/loader.php
on line
186
Deprecated
: Non-static method JCache::getInstance() should not be called statically, assuming $this from incompatible context in
/home/fastflash/domains/praktijkalibaks.nl/public_html/website/libraries/joomla/factory.php
on line
208
Strict Standards
: Non-static method JLoader::load() should not be called statically in
/home/fastflash/domains/praktijkalibaks.nl/public_html/website/libraries/loader.php
on line
161
Strict Standards
: Non-static method JLoader::register() should not be called statically in
/home/fastflash/domains/praktijkalibaks.nl/public_html/website/libraries/loader.php
on line
138
Strict Standards
: Declaration of JCacheView::get() should be compatible with JCache::get($id, $group = NULL) in
/home/fastflash/domains/praktijkalibaks.nl/public_html/website/libraries/joomla/cache/handler/view.php
on line
0
Deprecated
: Non-static method JRequest::getCmd() should not be called statically, assuming $this from incompatible context in
/home/fastflash/domains/praktijkalibaks.nl/public_html/website/libraries/joomla/cache/cache.php
on line
87
Deprecated
: Non-static method JRequest::getVar() should not be called statically, assuming $this from incompatible context in
/home/fastflash/domains/praktijkalibaks.nl/public_html/website/libraries/joomla/environment/request.php
on line
255
Deprecated
: Non-static method JRequest::_cleanVar() should not be called statically, assuming $this from incompatible context in
/home/fastflash/domains/praktijkalibaks.nl/public_html/website/libraries/joomla/environment/request.php
on line
151
Deprecated
: Non-static method JFilterInput::getInstance() should not be called statically, assuming $this from incompatible context in
/home/fastflash/domains/praktijkalibaks.nl/public_html/website/libraries/joomla/environment/request.php
on line
577
Deprecated
: Non-static method JRequest::getURI() should not be called statically, assuming $this from incompatible context in
/home/fastflash/domains/praktijkalibaks.nl/public_html/website/libraries/joomla/cache/handler/view.php
on line
148
Deprecated
: Non-static method JFactory::getURI() should not be called statically, assuming $this from incompatible context in
/home/fastflash/domains/praktijkalibaks.nl/public_html/website/libraries/joomla/environment/request.php
on line
51
Strict Standards
: Non-static method JLoader::import() should not be called statically in
/home/fastflash/domains/praktijkalibaks.nl/public_html/website/libraries/loader.php
on line
186
Deprecated
: Non-static method JURI::getInstance() should not be called statically, assuming $this from incompatible context in
/home/fastflash/domains/praktijkalibaks.nl/public_html/website/libraries/joomla/factory.php
on line
403
Deprecated
: Non-static method JCacheStorage::getInstance() should not be called statically, assuming $this from incompatible context in
/home/fastflash/domains/praktijkalibaks.nl/public_html/website/libraries/joomla/cache/cache.php
on line
313
Deprecated
: Non-static method JFactory::getConfig() should not be called statically, assuming $this from incompatible context in
/home/fastflash/domains/praktijkalibaks.nl/public_html/website/libraries/joomla/cache/storage/file.php
on line
37
Deprecated
: Non-static method JError::isError() should not be called statically, assuming $this from incompatible context in
/home/fastflash/domains/praktijkalibaks.nl/public_html/website/libraries/joomla/cache/cache.php
on line
206
Deprecated
: Non-static method JFactory::getDocument() should not be called statically, assuming $this from incompatible context in
/home/fastflash/domains/praktijkalibaks.nl/public_html/website/libraries/joomla/cache/handler/view.php
on line
85
Deprecated
: Non-static method JFactory::getUser() should not be called statically, assuming $this from incompatible context in
/home/fastflash/domains/praktijkalibaks.nl/public_html/website/components/com_content/views/article/view.html.php
on line
33
Strict Standards
: Non-static method JLoader::import() should not be called statically in
/home/fastflash/domains/praktijkalibaks.nl/public_html/website/libraries/loader.php
on line
186
Deprecated
: Non-static method JFactory::getSession() should not be called statically, assuming $this from incompatible context in
/home/fastflash/domains/praktijkalibaks.nl/public_html/website/libraries/joomla/factory.php
on line
163
Deprecated
: Non-static method JFactory::getDocument() should not be called statically, assuming $this from incompatible context in
/home/fastflash/domains/praktijkalibaks.nl/public_html/website/components/com_content/views/article/view.html.php
on line
34
Deprecated
: Non-static method JDispatcher::getInstance() should not be called statically, assuming $this from incompatible context in
/home/fastflash/domains/praktijkalibaks.nl/public_html/website/components/com_content/views/article/view.html.php
on line
35
Strict Standards
: Non-static method JLoader::import() should not be called statically in
/home/fastflash/domains/praktijkalibaks.nl/public_html/website/libraries/loader.php
on line
186
Strict Standards
: Non-static method JLoader::register() should not be called statically in
/home/fastflash/domains/praktijkalibaks.nl/public_html/website/libraries/loader.php
on line
71
Strict Standards
: Non-static method JLoader::load() should not be called statically in
/home/fastflash/domains/praktijkalibaks.nl/public_html/website/libraries/loader.php
on line
161
Strict Standards
: Non-static method JLoader::register() should not be called statically in
/home/fastflash/domains/praktijkalibaks.nl/public_html/website/libraries/loader.php
on line
138
Deprecated
: Non-static method JPathway::getInstance() should not be called statically, assuming $this from incompatible context in
/home/fastflash/domains/praktijkalibaks.nl/public_html/website/libraries/joomla/application/application.php
on line
697
Deprecated
: Non-static method JApplicationHelper::getClientInfo() should not be called statically, assuming $this from incompatible context in
/home/fastflash/domains/praktijkalibaks.nl/public_html/website/libraries/joomla/application/pathway.php
on line
75
Deprecated
: Non-static method JSite::getMenu() should not be called statically, assuming $this from incompatible context in
/home/fastflash/domains/praktijkalibaks.nl/public_html/website/includes/pathway.php
on line
34
Deprecated
: Non-static method JApplication::getMenu() should not be called statically, assuming $this from incompatible context in
/home/fastflash/domains/praktijkalibaks.nl/public_html/website/includes/application.php
on line
345
Strict Standards
: Non-static method JLoader::import() should not be called statically in
/home/fastflash/domains/praktijkalibaks.nl/public_html/website/libraries/loader.php
on line
186
Deprecated
: Non-static method JMenu::getInstance() should not be called statically, assuming $this from incompatible context in
/home/fastflash/domains/praktijkalibaks.nl/public_html/website/libraries/joomla/application/application.php
on line
720
Deprecated
: Non-static method JError::isError() should not be called statically, assuming $this from incompatible context in
/home/fastflash/domains/praktijkalibaks.nl/public_html/website/libraries/joomla/application/application.php
on line
721
Deprecated
: Non-static method JError::isError() should not be called statically, assuming $this from incompatible context in
/home/fastflash/domains/praktijkalibaks.nl/public_html/website/libraries/joomla/application/application.php
on line
698
Deprecated
: Non-static method JComponentHelper::getParams() should not be called statically, assuming $this from incompatible context in
/home/fastflash/domains/praktijkalibaks.nl/public_html/website/includes/application.php
on line
240
Strict Standards
: Non-static method JLoader::import() should not be called statically in
/home/fastflash/domains/praktijkalibaks.nl/public_html/website/libraries/loader.php
on line
186
Deprecated
: Non-static method JMenu::getInstance() should not be called statically, assuming $this from incompatible context in
/home/fastflash/domains/praktijkalibaks.nl/public_html/website/libraries/joomla/application/application.php
on line
720
Deprecated
: Non-static method JError::isError() should not be called statically, assuming $this from incompatible context in
/home/fastflash/domains/praktijkalibaks.nl/public_html/website/libraries/joomla/application/application.php
on line
721
Deprecated
: Non-static method JFactory::getConfig() should not be called statically, assuming $this from incompatible context in
/home/fastflash/domains/praktijkalibaks.nl/public_html/website/libraries/joomla/application/application.php
on line
394
Deprecated
: Non-static method JFactory::getConfig() should not be called statically, assuming $this from incompatible context in
/home/fastflash/domains/praktijkalibaks.nl/public_html/website/libraries/joomla/application/application.php
on line
394
Deprecated
: Non-static method JRegistryFormat::getInstance() should not be called statically, assuming $this from incompatible context in
/home/fastflash/domains/praktijkalibaks.nl/public_html/website/libraries/joomla/registry/registry.php
on line
373
Deprecated
: Non-static method JFilterInput::clean() should not be called statically, assuming $this from incompatible context in
/home/fastflash/domains/praktijkalibaks.nl/public_html/website/libraries/joomla/registry/format.php
on line
45
Deprecated
: Non-static method ContentHelperQuery::buildVotingQuery() should not be called statically, assuming $this from incompatible context in
/home/fastflash/domains/praktijkalibaks.nl/public_html/website/components/com_content/models/article.php
on line
526
Deprecated
: Non-static method JFactory::getUser() should not be called statically, assuming $this from incompatible context in
/home/fastflash/domains/praktijkalibaks.nl/public_html/website/components/com_content/models/article.php
on line
608
Strict Standards
: Non-static method JLoader::import() should not be called statically in
/home/fastflash/domains/praktijkalibaks.nl/public_html/website/libraries/loader.php
on line
186
Deprecated
: Non-static method JFactory::getSession() should not be called statically, assuming $this from incompatible context in
/home/fastflash/domains/praktijkalibaks.nl/public_html/website/libraries/joomla/factory.php
on line
163
Deprecated
: Non-static method JFactory::getDate() should not be called statically, assuming $this from incompatible context in
/home/fastflash/domains/praktijkalibaks.nl/public_html/website/components/com_content/models/article.php
on line
611
Strict Standards
: Non-static method JLoader::import() should not be called statically in
/home/fastflash/domains/praktijkalibaks.nl/public_html/website/libraries/loader.php
on line
186
Strict Standards
: Non-static method JLoader::register() should not be called statically in
/home/fastflash/domains/praktijkalibaks.nl/public_html/website/libraries/loader.php
on line
71
Deprecated
: Non-static method JFactory::getLanguage() should not be called statically, assuming $this from incompatible context in
/home/fastflash/domains/praktijkalibaks.nl/public_html/website/libraries/joomla/factory.php
on line
427
Strict Standards
: Non-static method JLoader::load() should not be called statically in
/home/fastflash/domains/praktijkalibaks.nl/public_html/website/libraries/loader.php
on line
161
Strict Standards
: Non-static method JLoader::register() should not be called statically in
/home/fastflash/domains/praktijkalibaks.nl/public_html/website/libraries/loader.php
on line
138
Deprecated
: Non-static method JFactory::getACL() should not be called statically, assuming $this from incompatible context in
/home/fastflash/domains/praktijkalibaks.nl/public_html/website/libraries/joomla/user/user.php
on line
260
Deprecated
: Non-static method JFactory::_createACL() should not be called statically, assuming $this from incompatible context in
/home/fastflash/domains/praktijkalibaks.nl/public_html/website/libraries/joomla/factory.php
on line
227
Strict Standards
: Non-static method JLoader::import() should not be called statically in
/home/fastflash/domains/praktijkalibaks.nl/public_html/website/libraries/loader.php
on line
186
Strict Standards
: Non-static method JLoader::register() should not be called statically in
/home/fastflash/domains/praktijkalibaks.nl/public_html/website/libraries/loader.php
on line
71
Deprecated
: Non-static method JFactory::getDBO() should not be called statically, assuming $this from incompatible context in
/home/fastflash/domains/praktijkalibaks.nl/public_html/website/libraries/joomla/factory.php
on line
527
Strict Standards
: Non-static method JLoader::load() should not be called statically in
/home/fastflash/domains/praktijkalibaks.nl/public_html/website/libraries/loader.php
on line
161
Strict Standards
: Non-static method JLoader::register() should not be called statically in
/home/fastflash/domains/praktijkalibaks.nl/public_html/website/libraries/loader.php
on line
138
Strict Standards
: Non-static method JLoader::import() should not be called statically in
/home/fastflash/domains/praktijkalibaks.nl/public_html/website/libraries/loader.php
on line
186
Strict Standards
: Non-static method JLoader::import() should not be called statically in
/home/fastflash/domains/praktijkalibaks.nl/public_html/website/libraries/loader.php
on line
186
Strict Standards
: Non-static method JLoader::load() should not be called statically in
/home/fastflash/domains/praktijkalibaks.nl/public_html/website/libraries/loader.php
on line
161
Strict Standards
: Non-static method JLoader::register() should not be called statically in
/home/fastflash/domains/praktijkalibaks.nl/public_html/website/libraries/loader.php
on line
138
Deprecated
: Non-static method JText::_() should not be called statically, assuming $this from incompatible context in
/home/fastflash/domains/praktijkalibaks.nl/public_html/website/components/com_content/models/article.php
on line
550
Deprecated
: Non-static method JFactory::getLanguage() should not be called statically, assuming $this from incompatible context in
/home/fastflash/domains/praktijkalibaks.nl/public_html/website/libraries/joomla/methods.php
on line
120
Deprecated
: Non-static method JFactory::getUser() should not be called statically, assuming $this from incompatible context in
/home/fastflash/domains/praktijkalibaks.nl/public_html/website/components/com_content/models/article.php
on line
110
Strict Standards
: Non-static method JLoader::import() should not be called statically in
/home/fastflash/domains/praktijkalibaks.nl/public_html/website/libraries/loader.php
on line
186
Deprecated
: Non-static method JFactory::getSession() should not be called statically, assuming $this from incompatible context in
/home/fastflash/domains/praktijkalibaks.nl/public_html/website/libraries/joomla/factory.php
on line
163
Deprecated
: Non-static method JRegistryFormat::getInstance() should not be called statically, assuming $this from incompatible context in
/home/fastflash/domains/praktijkalibaks.nl/public_html/website/libraries/joomla/registry/registry.php
on line
373
Deprecated
: Non-static method JFilterInput::clean() should not be called statically, assuming $this from incompatible context in
/home/fastflash/domains/praktijkalibaks.nl/public_html/website/libraries/joomla/registry/format.php
on line
45
Deprecated
: Non-static method JRequest::getVar() should not be called statically, assuming $this from incompatible context in
/home/fastflash/domains/praktijkalibaks.nl/public_html/website/components/com_content/models/article.php
on line
583
Deprecated
: Non-static method JRequest::_cleanVar() should not be called statically, assuming $this from incompatible context in
/home/fastflash/domains/praktijkalibaks.nl/public_html/website/libraries/joomla/environment/request.php
on line
151
Deprecated
: Non-static method JFilterInput::getInstance() should not be called statically, assuming $this from incompatible context in
/home/fastflash/domains/praktijkalibaks.nl/public_html/website/libraries/joomla/environment/request.php
on line
577
Deprecated
: Non-static method JRequest::getVar() should not be called statically, assuming $this from incompatible context in
/home/fastflash/domains/praktijkalibaks.nl/public_html/website/components/com_content/views/article/view.html.php
on line
60
Deprecated
: Non-static method JRequest::_cleanVar() should not be called statically, assuming $this from incompatible context in
/home/fastflash/domains/praktijkalibaks.nl/public_html/website/libraries/joomla/environment/request.php
on line
151
Deprecated
: Non-static method JFilterInput::getInstance() should not be called statically, assuming $this from incompatible context in
/home/fastflash/domains/praktijkalibaks.nl/public_html/website/libraries/joomla/environment/request.php
on line
577
Deprecated
: Non-static method JTable::getInstance() should not be called statically, assuming $this from incompatible context in
/home/fastflash/domains/praktijkalibaks.nl/public_html/website/components/com_content/models/article.php
on line
181
Strict Standards
: Non-static method JLoader::load() should not be called statically in
/home/fastflash/domains/praktijkalibaks.nl/public_html/website/libraries/loader.php
on line
161
Strict Standards
: Non-static method JLoader::register() should not be called statically in
/home/fastflash/domains/praktijkalibaks.nl/public_html/website/libraries/loader.php
on line
138
Strict Standards
: Non-static method JLoader::import() should not be called statically in
/home/fastflash/domains/praktijkalibaks.nl/public_html/website/libraries/loader.php
on line
186
Deprecated
: Non-static method JPath::find() should not be called statically, assuming $this from incompatible context in
/home/fastflash/domains/praktijkalibaks.nl/public_html/website/libraries/joomla/database/table.php
on line
91
Deprecated
: Non-static method JTable::addIncludePath() should not be called statically, assuming $this from incompatible context in
/home/fastflash/domains/praktijkalibaks.nl/public_html/website/libraries/joomla/database/table.php
on line
91
Deprecated
: Non-static method JFactory::getDBO() should not be called statically, assuming $this from incompatible context in
/home/fastflash/domains/praktijkalibaks.nl/public_html/website/libraries/joomla/database/table.php
on line
112
Deprecated
: Non-static method JFactory::getACL() should not be called statically, assuming $this from incompatible context in
/home/fastflash/domains/praktijkalibaks.nl/public_html/website/libraries/joomla/user/user.php
on line
260
Deprecated
: Non-static method JFactory::getACL() should not be called statically, assuming $this from incompatible context in
/home/fastflash/domains/praktijkalibaks.nl/public_html/website/libraries/joomla/user/user.php
on line
260
Deprecated
: Non-static method JFactory::getACL() should not be called statically, assuming $this from incompatible context in
/home/fastflash/domains/praktijkalibaks.nl/public_html/website/libraries/joomla/user/user.php
on line
260
Deprecated
: Non-static method JRoute::_() should not be called statically, assuming $this from incompatible context in
/home/fastflash/domains/praktijkalibaks.nl/public_html/website/components/com_content/views/article/view.html.php
on line
78
Deprecated
: Non-static method ContentHelperRoute::getArticleRoute() should not be called statically, assuming $this from incompatible context in
/home/fastflash/domains/praktijkalibaks.nl/public_html/website/components/com_content/views/article/view.html.php
on line
78
Deprecated
: Non-static method ContentHelperRoute::_findItem() should not be called statically, assuming $this from incompatible context in
/home/fastflash/domains/praktijkalibaks.nl/public_html/website/components/com_content/helpers/route.php
on line
49
Deprecated
: Non-static method JComponentHelper::getComponent() should not be called statically, assuming $this from incompatible context in
/home/fastflash/domains/praktijkalibaks.nl/public_html/website/components/com_content/helpers/route.php
on line
97
Deprecated
: Non-static method JComponentHelper::_load() should not be called statically, assuming $this from incompatible context in
/home/fastflash/domains/praktijkalibaks.nl/public_html/website/libraries/joomla/application/component/helper.php
on line
39
Deprecated
: Non-static method JApplication::getMenu() should not be called statically, assuming $this from incompatible context in
/home/fastflash/domains/praktijkalibaks.nl/public_html/website/components/com_content/helpers/route.php
on line
99
Strict Standards
: Non-static method JLoader::import() should not be called statically in
/home/fastflash/domains/praktijkalibaks.nl/public_html/website/libraries/loader.php
on line
186
Deprecated
: Non-static method JMenu::getInstance() should not be called statically, assuming $this from incompatible context in
/home/fastflash/domains/praktijkalibaks.nl/public_html/website/libraries/joomla/application/application.php
on line
720
Deprecated
: Non-static method JError::isError() should not be called statically, assuming $this from incompatible context in
/home/fastflash/domains/praktijkalibaks.nl/public_html/website/libraries/joomla/application/application.php
on line
721
Deprecated
: Non-static method JFactory::getApplication() should not be called statically, assuming $this from incompatible context in
/home/fastflash/domains/praktijkalibaks.nl/public_html/website/libraries/joomla/methods.php
on line
41
Deprecated
: Non-static method JFactory::getConfig() should not be called statically, assuming $this from incompatible context in
/home/fastflash/domains/praktijkalibaks.nl/public_html/website/includes/application.php
on line
372
Strict Standards
: Non-static method JLoader::import() should not be called statically in
/home/fastflash/domains/praktijkalibaks.nl/public_html/website/libraries/loader.php
on line
186
Deprecated
: Non-static method JRouter::getInstance() should not be called statically, assuming $this from incompatible context in
/home/fastflash/domains/praktijkalibaks.nl/public_html/website/libraries/joomla/application/application.php
on line
674
Deprecated
: Non-static method JError::isError() should not be called statically, assuming $this from incompatible context in
/home/fastflash/domains/praktijkalibaks.nl/public_html/website/libraries/joomla/application/application.php
on line
675
Deprecated
: Non-static method JSite::getMenu() should not be called statically, assuming $this from incompatible context in
/home/fastflash/domains/praktijkalibaks.nl/public_html/website/includes/router.php
on line
419
Deprecated
: Non-static method JApplication::getMenu() should not be called statically, assuming $this from incompatible context in
/home/fastflash/domains/praktijkalibaks.nl/public_html/website/includes/application.php
on line
345
Strict Standards
: Non-static method JLoader::import() should not be called statically in
/home/fastflash/domains/praktijkalibaks.nl/public_html/website/libraries/loader.php
on line
186
Deprecated
: Non-static method JMenu::getInstance() should not be called statically, assuming $this from incompatible context in
/home/fastflash/domains/praktijkalibaks.nl/public_html/website/libraries/joomla/application/application.php
on line
720
Deprecated
: Non-static method JError::isError() should not be called statically, assuming $this from incompatible context in
/home/fastflash/domains/praktijkalibaks.nl/public_html/website/libraries/joomla/application/application.php
on line
721
Deprecated
: Non-static method JURI::base() should not be called statically, assuming $this from incompatible context in
/home/fastflash/domains/praktijkalibaks.nl/public_html/website/includes/router.php
on line
109
Deprecated
: Non-static method JPluginHelper::importPlugin() should not be called statically, assuming $this from incompatible context in
/home/fastflash/domains/praktijkalibaks.nl/public_html/website/components/com_content/views/article/view.html.php
on line
101
Deprecated
: Non-static method JPluginHelper::_load() should not be called statically, assuming $this from incompatible context in
/home/fastflash/domains/praktijkalibaks.nl/public_html/website/libraries/joomla/plugin/helper.php
on line
92
Deprecated
: Non-static method JPluginHelper::_import() should not be called statically, assuming $this from incompatible context in
/home/fastflash/domains/praktijkalibaks.nl/public_html/website/libraries/joomla/plugin/helper.php
on line
97
Strict Standards
: Non-static method JLoader::import() should not be called statically in
/home/fastflash/domains/praktijkalibaks.nl/public_html/website/libraries/loader.php
on line
186
Deprecated
: Non-static method JDispatcher::getInstance() should not be called statically, assuming $this from incompatible context in
/home/fastflash/domains/praktijkalibaks.nl/public_html/website/libraries/joomla/application/application.php
on line
496
Deprecated
: Non-static method JDispatcher::getInstance() should not be called statically, assuming $this from incompatible context in
/home/fastflash/domains/praktijkalibaks.nl/public_html/website/libraries/joomla/plugin/helper.php
on line
140
Strict Standards
: Non-static method JLoader::load() should not be called statically in
/home/fastflash/domains/praktijkalibaks.nl/public_html/website/libraries/loader.php
on line
161
Strict Standards
: Non-static method JLoader::register() should not be called statically in
/home/fastflash/domains/praktijkalibaks.nl/public_html/website/libraries/loader.php
on line
138
Deprecated
: Non-static method JPluginHelper::_import() should not be called statically, assuming $this from incompatible context in
/home/fastflash/domains/praktijkalibaks.nl/public_html/website/libraries/joomla/plugin/helper.php
on line
97
Strict Standards
: Non-static method JLoader::import() should not be called statically in
/home/fastflash/domains/praktijkalibaks.nl/public_html/website/libraries/loader.php
on line
186
Deprecated
: Non-static method JDispatcher::getInstance() should not be called statically, assuming $this from incompatible context in
/home/fastflash/domains/praktijkalibaks.nl/public_html/website/libraries/joomla/application/application.php
on line
496
Deprecated
: Non-static method JDispatcher::getInstance() should not be called statically, assuming $this from incompatible context in
/home/fastflash/domains/praktijkalibaks.nl/public_html/website/libraries/joomla/plugin/helper.php
on line
140
Strict Standards
: Non-static method JLoader::load() should not be called statically in
/home/fastflash/domains/praktijkalibaks.nl/public_html/website/libraries/loader.php
on line
161
Strict Standards
: Non-static method JLoader::register() should not be called statically in
/home/fastflash/domains/praktijkalibaks.nl/public_html/website/libraries/loader.php
on line
138
Deprecated
: Non-static method JPluginHelper::_import() should not be called statically, assuming $this from incompatible context in
/home/fastflash/domains/praktijkalibaks.nl/public_html/website/libraries/joomla/plugin/helper.php
on line
97
Strict Standards
: Non-static method JLoader::import() should not be called statically in
/home/fastflash/domains/praktijkalibaks.nl/public_html/website/libraries/loader.php
on line
186
Deprecated
: Non-static method JDispatcher::getInstance() should not be called statically, assuming $this from incompatible context in
/home/fastflash/domains/praktijkalibaks.nl/public_html/website/libraries/joomla/application/application.php
on line
496
Deprecated
: Non-static method JDispatcher::getInstance() should not be called statically, assuming $this from incompatible context in
/home/fastflash/domains/praktijkalibaks.nl/public_html/website/libraries/joomla/plugin/helper.php
on line
140
Strict Standards
: Non-static method JLoader::load() should not be called statically in
/home/fastflash/domains/praktijkalibaks.nl/public_html/website/libraries/loader.php
on line
161
Strict Standards
: Non-static method JLoader::register() should not be called statically in
/home/fastflash/domains/praktijkalibaks.nl/public_html/website/libraries/loader.php
on line
138
Deprecated
: Non-static method JPluginHelper::_import() should not be called statically, assuming $this from incompatible context in
/home/fastflash/domains/praktijkalibaks.nl/public_html/website/libraries/joomla/plugin/helper.php
on line
97
Strict Standards
: Non-static method JLoader::import() should not be called statically in
/home/fastflash/domains/praktijkalibaks.nl/public_html/website/libraries/loader.php
on line
186
Deprecated
: Non-static method JDispatcher::getInstance() should not be called statically, assuming $this from incompatible context in
/home/fastflash/domains/praktijkalibaks.nl/public_html/website/libraries/joomla/application/application.php
on line
496
Deprecated
: Non-static method JDispatcher::getInstance() should not be called statically, assuming $this from incompatible context in
/home/fastflash/domains/praktijkalibaks.nl/public_html/website/libraries/joomla/plugin/helper.php
on line
140
Strict Standards
: Non-static method JLoader::load() should not be called statically in
/home/fastflash/domains/praktijkalibaks.nl/public_html/website/libraries/loader.php
on line
161
Strict Standards
: Non-static method JLoader::register() should not be called statically in
/home/fastflash/domains/praktijkalibaks.nl/public_html/website/libraries/loader.php
on line
138
Deprecated
: Non-static method JPluginHelper::_import() should not be called statically, assuming $this from incompatible context in
/home/fastflash/domains/praktijkalibaks.nl/public_html/website/libraries/joomla/plugin/helper.php
on line
97
Strict Standards
: Non-static method JLoader::import() should not be called statically in
/home/fastflash/domains/praktijkalibaks.nl/public_html/website/libraries/loader.php
on line
186
Deprecated
: Non-static method JDispatcher::getInstance() should not be called statically, assuming $this from incompatible context in
/home/fastflash/domains/praktijkalibaks.nl/public_html/website/libraries/joomla/application/application.php
on line
496
Deprecated
: Non-static method JDispatcher::getInstance() should not be called statically, assuming $this from incompatible context in
/home/fastflash/domains/praktijkalibaks.nl/public_html/website/libraries/joomla/plugin/helper.php
on line
140
Strict Standards
: Non-static method JLoader::load() should not be called statically in
/home/fastflash/domains/praktijkalibaks.nl/public_html/website/libraries/loader.php
on line
161
Strict Standards
: Non-static method JLoader::register() should not be called statically in
/home/fastflash/domains/praktijkalibaks.nl/public_html/website/libraries/loader.php
on line
138
Strict Standards
: Non-static method JLoader::load() should not be called statically in
/home/fastflash/domains/praktijkalibaks.nl/public_html/website/libraries/loader.php
on line
161
Strict Standards
: Non-static method JLoader::register() should not be called statically in
/home/fastflash/domains/praktijkalibaks.nl/public_html/website/libraries/loader.php
on line
138
Deprecated
: iconv_set_encoding(): Use of iconv.internal_encoding is deprecated in
/home/fastflash/domains/praktijkalibaks.nl/public_html/website/libraries/joomla/utilities/string.php
on line
32
Deprecated
: iconv_set_encoding(): Use of iconv.input_encoding is deprecated in
/home/fastflash/domains/praktijkalibaks.nl/public_html/website/libraries/joomla/utilities/string.php
on line
33
Deprecated
: iconv_set_encoding(): Use of iconv.output_encoding is deprecated in
/home/fastflash/domains/praktijkalibaks.nl/public_html/website/libraries/joomla/utilities/string.php
on line
34
Strict Standards
: Non-static method JString::strpos() should not be called statically in
/home/fastflash/domains/praktijkalibaks.nl/public_html/website/plugins/content/emailcloak.php
on line
67
Strict Standards
: Non-static method JString::strpos() should not be called statically in
/home/fastflash/domains/praktijkalibaks.nl/public_html/website/plugins/content/emailcloak.php
on line
73
Strict Standards
: Non-static method JFactory::getDBO() should not be called statically in
/home/fastflash/domains/praktijkalibaks.nl/public_html/website/plugins/content/loadmodule.php
on line
24
Strict Standards
: Non-static method JString::strpos() should not be called statically in
/home/fastflash/domains/praktijkalibaks.nl/public_html/website/plugins/content/loadmodule.php
on line
26
Strict Standards
: Non-static method JPluginHelper::getPlugin() should not be called statically in
/home/fastflash/domains/praktijkalibaks.nl/public_html/website/plugins/content/pagebreak.php
on line
39
Strict Standards
: Non-static method JPluginHelper::_load() should not be called statically in
/home/fastflash/domains/praktijkalibaks.nl/public_html/website/libraries/joomla/plugin/helper.php
on line
41
Deprecated
: Non-static method JRegistryFormat::getInstance() should not be called statically, assuming $this from incompatible context in
/home/fastflash/domains/praktijkalibaks.nl/public_html/website/libraries/joomla/registry/registry.php
on line
373
Deprecated
: Non-static method JFilterInput::clean() should not be called statically, assuming $this from incompatible context in
/home/fastflash/domains/praktijkalibaks.nl/public_html/website/libraries/joomla/registry/format.php
on line
45
Strict Standards
: Non-static method JRequest::getBool() should not be called statically in
/home/fastflash/domains/praktijkalibaks.nl/public_html/website/plugins/content/pagebreak.php
on line
42
Strict Standards
: Non-static method JRequest::getVar() should not be called statically in
/home/fastflash/domains/praktijkalibaks.nl/public_html/website/libraries/joomla/environment/request.php
on line
217
Strict Standards
: Non-static method JRequest::_cleanVar() should not be called statically in
/home/fastflash/domains/praktijkalibaks.nl/public_html/website/libraries/joomla/environment/request.php
on line
151
Strict Standards
: Non-static method JFilterInput::getInstance() should not be called statically in
/home/fastflash/domains/praktijkalibaks.nl/public_html/website/libraries/joomla/environment/request.php
on line
577
Strict Standards
: Non-static method JRequest::getBool() should not be called statically in
/home/fastflash/domains/praktijkalibaks.nl/public_html/website/plugins/content/pagebreak.php
on line
43
Strict Standards
: Non-static method JRequest::getVar() should not be called statically in
/home/fastflash/domains/praktijkalibaks.nl/public_html/website/libraries/joomla/environment/request.php
on line
217
Strict Standards
: Non-static method JRequest::_cleanVar() should not be called statically in
/home/fastflash/domains/praktijkalibaks.nl/public_html/website/libraries/joomla/environment/request.php
on line
151
Strict Standards
: Non-static method JFilterInput::getInstance() should not be called statically in
/home/fastflash/domains/praktijkalibaks.nl/public_html/website/libraries/joomla/environment/request.php
on line
577
Strict Standards
: Non-static method JPlugin::loadLanguage() should not be called statically in
/home/fastflash/domains/praktijkalibaks.nl/public_html/website/plugins/content/pagebreak.php
on line
45
Strict Standards
: Non-static method JFactory::getLanguage() should not be called statically in
/home/fastflash/domains/praktijkalibaks.nl/public_html/website/libraries/joomla/plugin/plugin.php
on line
113
Deprecated
: Non-static method JRegistryFormat::getInstance() should not be called statically, assuming $this from incompatible context in
/home/fastflash/domains/praktijkalibaks.nl/public_html/website/libraries/joomla/registry/registry.php
on line
373
Deprecated
: Non-static method JFilterInput::clean() should not be called statically, assuming $this from incompatible context in
/home/fastflash/domains/praktijkalibaks.nl/public_html/website/libraries/joomla/registry/format.php
on line
45
Deprecated
: Non-static method JSite::getMenu() should not be called statically, assuming $this from incompatible context in
/home/fastflash/domains/praktijkalibaks.nl/public_html/website/components/com_content/views/article/view.html.php
on line
110
Deprecated
: Non-static method JApplication::getMenu() should not be called statically, assuming $this from incompatible context in
/home/fastflash/domains/praktijkalibaks.nl/public_html/website/includes/application.php
on line
345
Strict Standards
: Non-static method JLoader::import() should not be called statically in
/home/fastflash/domains/praktijkalibaks.nl/public_html/website/libraries/loader.php
on line
186
Deprecated
: Non-static method JMenu::getInstance() should not be called statically, assuming $this from incompatible context in
/home/fastflash/domains/praktijkalibaks.nl/public_html/website/libraries/joomla/application/application.php
on line
720
Deprecated
: Non-static method JError::isError() should not be called statically, assuming $this from incompatible context in
/home/fastflash/domains/praktijkalibaks.nl/public_html/website/libraries/joomla/application/application.php
on line
721
Deprecated
: Non-static method JRegistryFormat::getInstance() should not be called statically, assuming $this from incompatible context in
/home/fastflash/domains/praktijkalibaks.nl/public_html/website/libraries/joomla/registry/registry.php
on line
373
Deprecated
: Non-static method JFilterInput::clean() should not be called statically, assuming $this from incompatible context in
/home/fastflash/domains/praktijkalibaks.nl/public_html/website/libraries/joomla/registry/format.php
on line
45
Deprecated
: Non-static method JFactory::getConfig() should not be called statically, assuming $this from incompatible context in
/home/fastflash/domains/praktijkalibaks.nl/public_html/website/libraries/joomla/application/application.php
on line
394
Deprecated
: Non-static method JFactory::getDocument() should not be called statically, assuming $this from incompatible context in
/home/fastflash/domains/praktijkalibaks.nl/public_html/website/libraries/joomla/application/application.php
on line
931
Deprecated
: Non-static method JFactory::getConfig() should not be called statically, assuming $this from incompatible context in
/home/fastflash/domains/praktijkalibaks.nl/public_html/website/libraries/joomla/application/application.php
on line
394
Deprecated
: Non-static method JFactory::getDocument() should not be called statically, assuming $this from incompatible context in
/home/fastflash/domains/praktijkalibaks.nl/public_html/website/libraries/joomla/application/application.php
on line
931
Deprecated
: Non-static method JRegistryFormat::getInstance() should not be called statically, assuming $this from incompatible context in
/home/fastflash/domains/praktijkalibaks.nl/public_html/website/libraries/joomla/registry/registry.php
on line
373
Deprecated
: Non-static method JFilterInput::clean() should not be called statically, assuming $this from incompatible context in
/home/fastflash/domains/praktijkalibaks.nl/public_html/website/libraries/joomla/registry/format.php
on line
45
Strict Standards
: Non-static method JRequest::getCmd() should not be called statically in
/home/fastflash/domains/praktijkalibaks.nl/public_html/website/plugins/content/pagenavigation.php
on line
21
Strict Standards
: Non-static method JRequest::getVar() should not be called statically in
/home/fastflash/domains/praktijkalibaks.nl/public_html/website/libraries/joomla/environment/request.php
on line
255
Strict Standards
: Non-static method JPluginHelper::getPlugin() should not be called statically in
/home/fastflash/domains/praktijkalibaks.nl/public_html/website/plugins/content/pagenavigation.php
on line
24
Strict Standards
: Non-static method JPluginHelper::_load() should not be called statically in
/home/fastflash/domains/praktijkalibaks.nl/public_html/website/libraries/joomla/plugin/helper.php
on line
41
Strict Standards
: Non-static method JFactory::getURI() should not be called statically in
/home/fastflash/domains/praktijkalibaks.nl/public_html/website/plugins/content/vote.php
on line
21
Strict Standards
: Non-static method JLoader::import() should not be called statically in
/home/fastflash/domains/praktijkalibaks.nl/public_html/website/libraries/loader.php
on line
186
Strict Standards
: Non-static method JURI::getInstance() should not be called statically in
/home/fastflash/domains/praktijkalibaks.nl/public_html/website/libraries/joomla/factory.php
on line
403
Deprecated
: Non-static method JRequest::getBool() should not be called statically, assuming $this from incompatible context in
/home/fastflash/domains/praktijkalibaks.nl/public_html/website/components/com_content/views/article/view.html.php
on line
183
Deprecated
: Non-static method JRequest::getVar() should not be called statically, assuming $this from incompatible context in
/home/fastflash/domains/praktijkalibaks.nl/public_html/website/libraries/joomla/environment/request.php
on line
217
Deprecated
: Non-static method JRequest::_cleanVar() should not be called statically, assuming $this from incompatible context in
/home/fastflash/domains/praktijkalibaks.nl/public_html/website/libraries/joomla/environment/request.php
on line
151
Deprecated
: Non-static method JFilterInput::getInstance() should not be called statically, assuming $this from incompatible context in
/home/fastflash/domains/praktijkalibaks.nl/public_html/website/libraries/joomla/environment/request.php
on line
577
Strict Standards
: Non-static method JLoader::import() should not be called statically in
/home/fastflash/domains/praktijkalibaks.nl/public_html/website/libraries/loader.php
on line
186
Deprecated
: Non-static method JPath::find() should not be called statically, assuming $this from incompatible context in
/home/fastflash/domains/praktijkalibaks.nl/public_html/website/libraries/joomla/application/component/view.php
on line
547
Deprecated
: Non-static method JError::isError() should not be called statically, assuming $this from incompatible context in
/home/fastflash/domains/praktijkalibaks.nl/public_html/website/libraries/joomla/application/component/view.php
on line
193
Deprecated
: Non-static method JFactory::getACL() should not be called statically, assuming $this from incompatible context in
/home/fastflash/domains/praktijkalibaks.nl/public_html/website/libraries/joomla/user/user.php
on line
260
Deprecated
: Non-static method JFactory::getACL() should not be called statically, assuming $this from incompatible context in
/home/fastflash/domains/praktijkalibaks.nl/public_html/website/libraries/joomla/user/user.php
on line
260

Deprecated: Non-static method JHTML::_() should not be called statically, assuming $this from incompatible context in /home/fastflash/domains/praktijkalibaks.nl/public_html/website/templates/PraktijkAlibaks/html/com_content/article/default.php on line 17

Deprecated: Non-static method JText::_() should not be called statically, assuming $this from incompatible context in /home/fastflash/domains/praktijkalibaks.nl/public_html/website/templates/PraktijkAlibaks/html/com_content/article/default.php on line 17

Deprecated: Non-static method JFactory::getLanguage() should not be called statically, assuming $this from incompatible context in /home/fastflash/domains/praktijkalibaks.nl/public_html/website/libraries/joomla/methods.php on line 120

Strict Standards: Non-static method JLoader::load() should not be called statically in /home/fastflash/domains/praktijkalibaks.nl/public_html/website/libraries/loader.php on line 161

Strict Standards: Non-static method JLoader::register() should not be called statically in /home/fastflash/domains/praktijkalibaks.nl/public_html/website/libraries/loader.php on line 138

Strict Standards: Non-static method JLoader::import() should not be called statically in /home/fastflash/domains/praktijkalibaks.nl/public_html/website/libraries/loader.php on line 186

Deprecated: Non-static method JPath::find() should not be called statically, assuming $this from incompatible context in /home/fastflash/domains/praktijkalibaks.nl/public_html/website/libraries/joomla/html/html.php on line 66

Deprecated: Non-static method JHTML::addIncludePath() should not be called statically, assuming $this from incompatible context in /home/fastflash/domains/praktijkalibaks.nl/public_html/website/libraries/joomla/html/html.php on line 66

Strict Standards: call_user_func_array() expects parameter 1 to be a valid callback, non-static method JHTMLImage::site() should not be called statically in /home/fastflash/domains/praktijkalibaks.nl/public_html/website/libraries/joomla/html/html.php on line 91

Strict Standards: Non-static method JLoader::load() should not be called statically in /home/fastflash/domains/praktijkalibaks.nl/public_html/website/libraries/loader.php on line 161

Strict Standards: Non-static method JLoader::register() should not be called statically in /home/fastflash/domains/praktijkalibaks.nl/public_html/website/libraries/loader.php on line 138

Strict Standards: Non-static method JArrayHelper::toString() should not be called statically in /home/fastflash/domains/praktijkalibaks.nl/public_html/website/libraries/joomla/html/html/image.php on line 52

Strict Standards: Non-static method JURI::base() should not be called statically in /home/fastflash/domains/praktijkalibaks.nl/public_html/website/libraries/joomla/html/html/image.php on line 85

Acupunctuur /Tens/ Pijnbestrijding / Principes
Pijnbestrijding voor - tijdens en na de operatie.
Volgens de filosofie van de Traditionele Chinese Geneeskunde wordt elk
mens geboren met een hoeveelheid energie. Deze energie stroomt door
het lichaam langs kanalen die meridianen worden genoemd. Die energie
is de levenskracht van een mens. Deze meridianen vormen als het ware
een web in het lichaam. Door op bepaalde punten acupunctuur toe te
passen wordt het balans in het lichaam behouden of hersteld.

Ooracupunctuur is een moderne vorm van acupunctuur,die ontdekt en
ontwikkeld is door deFranse arts Nogier. Doordat het lichaam is geprojecteerd op de
oorschelp, wordt in mijn praktijk lichaamsacupunctuur vaak
gecombineerd met ooracupunctuur / westerse geneeskunde.
Hierdoor bereik je betere resultaten en sneller herstel van klachten.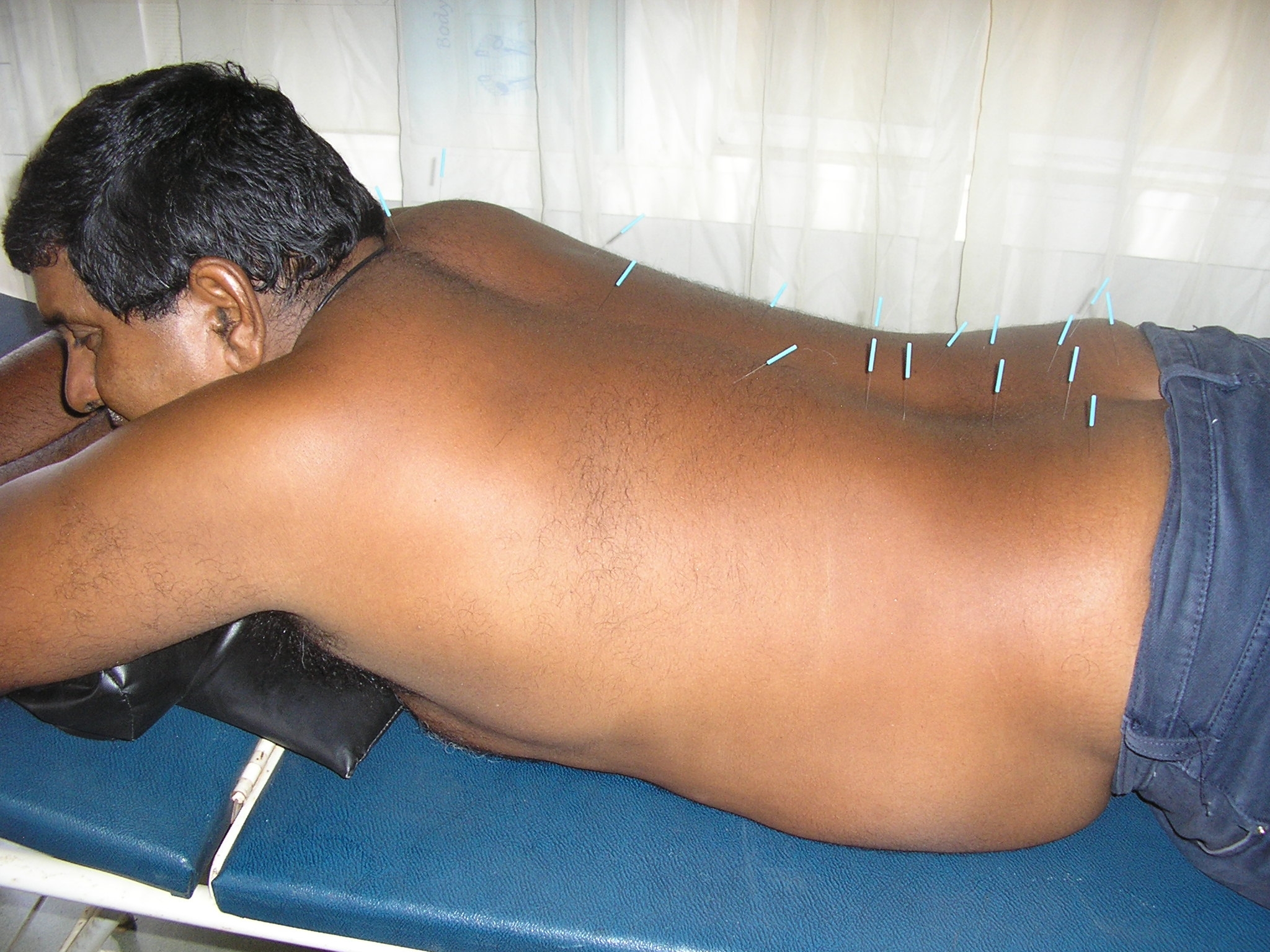 Middels ooracupunctuur kunnen alle organen worden bereikt en positief worden beïnvloed.
Acupunctuur kan ook toegepast worden tijdens de operatie ter
ondersteuning van de verdoving.

In principe zijn veel ziektes, chronische aandoeningen, diverse pijnen met acupunctuur goed te behandelen. Bij pijnen kunt u denken aan last van de schouders, enkel knie etc. na een operatie.

Tens apparaat om de pijn te bestrijden :
Wordt heel vaak gebruik gemaakt van de Tens bij chronische en acute pijnbestrijding.
Kan met electroden of naalden .Beide mogelijkheden zijn aanwezig .
80 - 90% van de klachten  worden bestreden met Tens . Vaak zijn de klachten
helemaal verdwenen na de behandelingen .


Ik werk volgens de vijf natuurgerichte principes in combinatie met de westerse geneeskunde.

- Energie , alles bestaat uit energie dus ons lichaam ook .
- Prikkeloverdracht, zenuwstelsel is het communicatienetwerk in ons lichaam .
- Drainage ,lichaam wordt belast met giftstoffen .
- Voeding ,lichaam heeft goede voeding nodig voor goed functioneren.
- Psyche ,denkt aan fysiek/emotie/mentaal etc. Behandelvorm .

Westerse geneeskunde : blokkades/infiltraties etc.
Strict Standards
: Non-static method JLoader::import() should not be called statically in
/home/fastflash/domains/praktijkalibaks.nl/public_html/website/libraries/loader.php
on line
186
Deprecated
: Non-static method JPathway::getInstance() should not be called statically, assuming $this from incompatible context in
/home/fastflash/domains/praktijkalibaks.nl/public_html/website/libraries/joomla/application/application.php
on line
697
Deprecated
: Non-static method JError::isError() should not be called statically, assuming $this from incompatible context in
/home/fastflash/domains/praktijkalibaks.nl/public_html/website/libraries/joomla/application/application.php
on line
698
Deprecated
: Non-static method JError::isError() should not be called statically, assuming $this from incompatible context in
/home/fastflash/domains/praktijkalibaks.nl/public_html/website/libraries/joomla/cache/cache.php
on line
229
Deprecated
: Non-static method JModuleHelper::getModules() should not be called statically, assuming $this from incompatible context in
/home/fastflash/domains/praktijkalibaks.nl/public_html/website/libraries/joomla/document/html/html.php
on line
272
Deprecated
: Non-static method JModuleHelper::_load() should not be called statically, assuming $this from incompatible context in
/home/fastflash/domains/praktijkalibaks.nl/public_html/website/libraries/joomla/application/module/helper.php
on line
88
Deprecated
: Non-static method JRequest::getBool() should not be called statically, assuming $this from incompatible context in
/home/fastflash/domains/praktijkalibaks.nl/public_html/website/libraries/joomla/application/module/helper.php
on line
97
Deprecated
: Non-static method JRequest::getVar() should not be called statically, assuming $this from incompatible context in
/home/fastflash/domains/praktijkalibaks.nl/public_html/website/libraries/joomla/environment/request.php
on line
217
Deprecated
: Non-static method JRequest::_cleanVar() should not be called statically, assuming $this from incompatible context in
/home/fastflash/domains/praktijkalibaks.nl/public_html/website/libraries/joomla/environment/request.php
on line
151
Deprecated
: Non-static method JFilterInput::getInstance() should not be called statically, assuming $this from incompatible context in
/home/fastflash/domains/praktijkalibaks.nl/public_html/website/libraries/joomla/environment/request.php
on line
577